For the past two years, I have been working with fellow librarians on virtual library projects that allow participants to "enter" a virtual exhibit or simulation.  The first exhibit we developed was Virtual Texas, which featured the Alamo.  Next, we worked with a virtual world builder who designed a rescue simulation called Virtual Tornado.  The third virtual library project was created in collaboration with colleagues from the University of Washington's Certificate in Virtual World, which built Maya Island.
Now, in the summer of 2012, we present Summer in Berlin!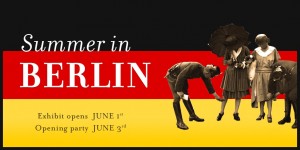 Summer in Berlin will be on display at the Community Virtual Library Exhibition Area in the virtual world of Second Life. This virtual experience will give participants the opportunity to enter an historical simulation of Berlin, Germany in the 1920's- complete with music, art, literature, and historical attire (which will be provided).  The Berlin project was created by a woman in the Netherlands who is an historical consultant specializing in the era.
What's the purpose of these virtual exhibits?  The Horizon Report, and current research on best practices in education, show potential and predicted growth in serious gaming for education. Librarians realize the importance of not only embracing emerging technology trends, but helping users prioritize them through teaching critical evaluation of content.  Several librarian colleagues have worked together to acquire virtual world resources in the same way librarians acquire the best physical resources available for community libraries.  In the future, it may be possible not only to "read" the book, but to "enter" the book through an immersive virtual experience in 3D.