I first heard of the book, You Are Not a Gadget, from a fellow librarian colleague in  my professional learning network (thanks Lane).  I don't know where to begin to consolidate the ideas I encountered in this book into a quick blog post.  You can see the plethora of post-its sticking out the pages which are also bookmarked, underlined and highlighted.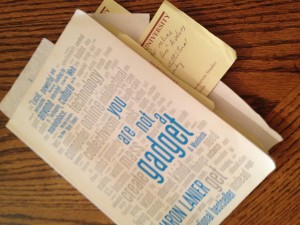 Jaron Lanier eloquently- or should I say bluntly- points out that the digital revolution has glorified the "wisdom of the crowd" to the extent of making us believe the digital fragments we post about ourselves are top priority in the hierarchy of information.  As individuals, we are becoming fragments of information bits. See page 21 for tips on "things you can do to be a person instead of a source of fragments to be exploited by others".
The "wiki" trend of glorifying the crowd's knowledge is propelling us toward becoming a "society with a single book" (p. 46). On the web, we jump from link to link, many of which are copied and pasted without any credit to the original source, as we cruise the net with a gluttonous appetite to intake what appeals to us and then spew it out to others, as though these stolen fragments can somehow define our individuality.
Participatory culture is a term that has become almost synonymous with democracy and who doesn't love democracy? Personally, I work very well in groups and believe, as Vygotsky did, that we learn best in collaboration not in isolation.  I admire my co-workers and colleagues. In fact, I am often humbled by their talents, abilities and the genuine human kindness I witness from those around me.  What I admire, however, is the uniqueness of the individual and what each brings to the group.  Once again, I come face to face with opposites- which is more important- the group or the individual?  I believe it is both.
Lanier has challenged me to contemplate the balance between the "hive mind" of interconnectivity and the quest to actually think for myself. We are NOT our devices, although many people now feel vulnerable without them. (Come on, admit it- we all do!) The digital revolution has changed us more than we yet can understand.  (Isn't the Apple store the busiest place you will see at the mall, even in hard economic times?) Perhaps people are afraid they will be left behind and will not be able to survive in the technological future without the latest gadget.  Lanier makes a great point by saying that the gadgets are "only useful because people have the magical ability to communicate meaning through them".  Unfortunately, that personal meaning is often lost in the clutter of a million clamoring voices, all repeating each other or repeating what has been repeated and retweeted and reposted and repinned and mashed up into the one giant book we call the web.